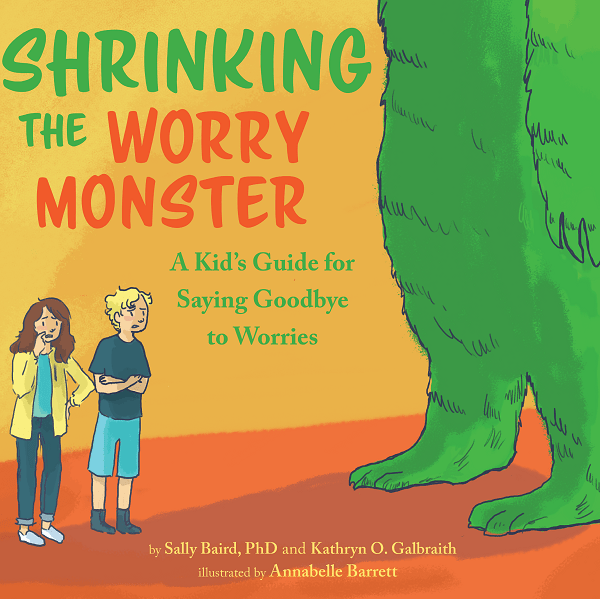 Shrinking the Worry Monster
Worry Monster has been whispering mean things to kids and making them feel terrible. Now it is up to Brooklyn and Jackson to discover the monster's secret—and stop him!
This delightful story contains research-based strategies that kids and their parents can use to overcome worry and fear. An introduction explains how faulty thinking can lead to worry, and three appendices offer the tools needed for reducing a child's worries. This is a very entertaining book, but it also contains an important lesson that really does help kids learn to "shrink" their worries. Author Sally Baird has successfully used these strategies with her clients for over 20 years.
The book is suitable for ages 4 to 12, but can be useful for ages 4 to 94!
Shrinking the Worry Monster will be available for purchase via this site at Village Books and anywhere books are sold!
Does your child worry often? Does your child cling to his or her worries despite your best efforts to offer assurance that the worry won't happen or isn't true? If so, you are not alone. Research tells us that more children worry now than ever before, with anxiety being the number one mental health concern. Children's worries can range from minor and infrequent thoughts to incapacitating anxiety preventing a child from fully engaging with school, friends, and activities. A worried child may display such symptoms as restlessness, tiredness, distraction, irritation, tension, and sleep difficulties. The child can become "stuck" believing that irrational or distorted thoughts are true.
Though a worried child can become very distressed and distressing to others, there is good news: worries can be diminished by changing the way we respond to them. The strategy used in this book is based on cognitive behavioral therapy (CBT), one of the most effective treatments to decrease anxiety. The main concept in CBT is that our worried thoughts are based on "faulty thinking" and once we correct the faulty thinking we can "shrink" the worry. In faulty thinking our brain tricks us by saying that something bad will happen or something is wrong with us. If we listen to these negative thoughts, we may start to believe them and then act as if they are true. A negative cycle can take effect, which is very difficult to break unless the worrier can change his or her thinking.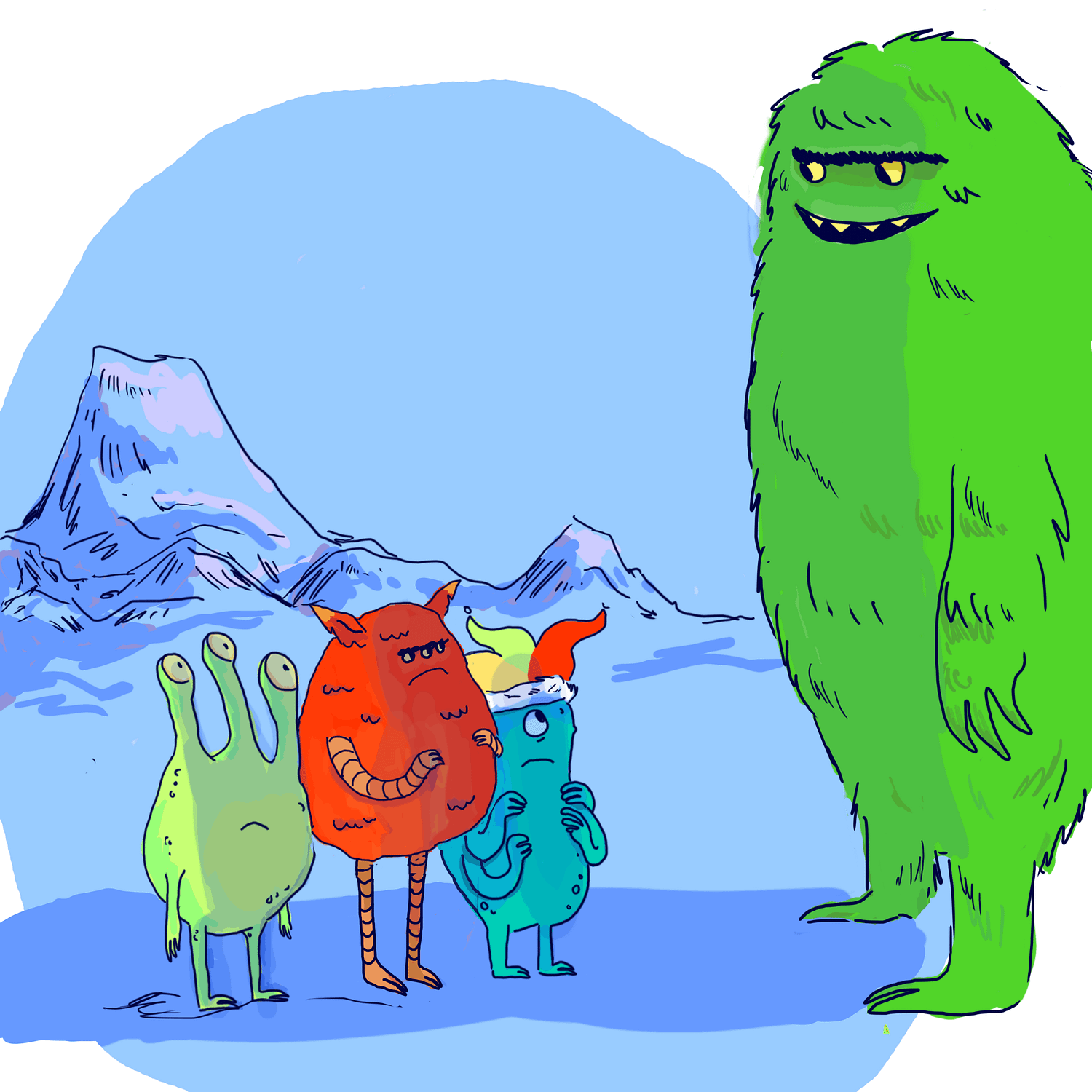 Dr. Sally has been a public health nurse, a school psychologist, and finally a clinical psychologist in private practice where she specialized in children's issues. Over the years, she noticed that more and more children were coming to her for anxiety.
To help these children, she successfully used cognitive behavioral therapy (CBT) to teach them skills to decrease their worry. She realized that one of the main concepts in CBT could be taught in a book format and the idea for this book was born.
Kathryn O. Galbraith, a successful author, and Dr. Sally had great fun writing this book. In fact, the entire book process from idea to printing has been one of Dr. Sally's most creative times!
She is now retired but still volunteers in the schools. Dr. Sally currently writes about kids and anxiety on her blog and for online magazines. Recent articles have been published in Red Tricycle and Parent Map/Seattle. She lives in lovely, green, wet, NW Washington State with her husband and near their two daughters and four grandchildren. She loves to see the grandchildren, play ukulele, hike, bike, kayak, and travel.
About Kathryn O. Galbraith
Kathryn O. Galbraith is an award-winning author of 22 children's books. She loves working in many different genres with many different characters, but this is her first book about a Worry Monster!
Kathryn began writing in the second grade and never stopped. She grew up in Plymouth, Michigan, with four brothers, two birds, one dog, and lots and lots of books. Kathryn always felt – and still feels – lucky to have so many brothers. She felt sorry for girls who only had one or two. When she writes about boy characters, they all seem to have a little bit of Chuck, Tom, Ed, or Jim in them.
Today Kathryn lives in the green, rainy, watery, beautiful state of Washington with her husband Steve, their naughty puppy, Duffy, and lots and lots of books. You can find out more about Kathryn and her books at http://www.kathrynogalbraith.com/home/.
Annabelle Barrett is an illustrator and designer from Bellingham, Washington. She studied art and design at Western Washington University. She loves all things children's books and has loved being a part of this project. 
Nancy Tupper is a former English teacher who enjoys fussing over words on the page, making jam, playing flute, and backpacking. She has met with bears in the wilderness, and she survived the second most powerful earthquake ever recorded. Contact August Editorial Service.
Shrinking the Worry Monster is for any parent who wants their child to worry less and for every child who is being bullied by the Worry Monster. Effective and proven strategies for managing worry and anxiety are described in an easy to understand and visually engaging way to show kids (and parents) that they can make their Worry Monster smaller and take back their power. Read this book to your children and help them say goodbye to worry!
"What if I'm not smart enough?"


              

"What if I can't do it?"


                             

"What if no one likes me?"
Kids can have monstrous worries, and if they listen to these negative thoughts, their anxieties can grow and grow. Dr. Sally Baird has helped anxious children learn to overcome their worries. In
Shrinking the Worry Monster
, she teaches kids the powerful strategy of replacing their "Worry Monster" thoughts with positive self-talk. Tips for parents and others who care about children are included to help guide their conversations.
Author Sally Baird's new book,
Shrinking the Worry Monster
, is a delightful and engaging story with a powerful message.  The characters bring to life the many fears that children experience while growing up. Ms. Baird's tips for parents and children are easy to understand and to implement.  This book is a much needed tool for parents, teachers, and especially children.
Shrinking the Worry Monster naturally lends itself to library story times — with, as I imagine, the inflation and deflation of a balloon "monster" while children practice their new responses to fear — as well as cozy one-on-one sharing with loved ones. Dr. Baird's book provides a welcome reminder to children and their grown-ups that we're really all in this together, and shrinking our worry monsters is a life long, life-enhancing skill.
Picture books provide a wonderful way to help children with their struggles, and Dr. Sally Baird's book, Shrinking the Worry Monster, is the perfect antidote for those wrestling with anxiety. Its characters and their frets are completely relatable, and readers are sure to find the strategy for defeating worry easy to apply in their own lives. A helpful guide for caretakers and suggestions for further reading are also included.
Shrinking the Worry Monster is a fabulous tool for anxious children and those who love them.
Shrinking the Worry Monster is an engaging 'read to' book for children about their worries and an easy to use self-help technique for parents to give children who suffer from anxieties.
Shrinking the Worry Monster should be in every household.  It is written in understandable language for children and has practical tips for caretakers. The tips can be used by adults without the story for older children! I wish I'd had this book when my children were young.
Reading Shrinking the Worry Monster with my 8-year-old grandson curled up next to me was fascinating—he was captivated and engaged. Kids are the best, most honest book critics and of course, whenever there's a monster, there's a focus. This monster really works as intended. It is hurtful yet vulnerable and is exactly the right tool for kids with worries. Kids will relate to their peers in Brooklyn and Jackson with their universal set of childhood fears—being accepted, not sleeping, staying safe, etc. The story has the right balance of action and thoughtfulness and it wraps up with clear solutions that will empower kids. A much-needed addition to any child's library and, frankly, works for all ages. Helpful discussion ideas and suggested follow-up reading included. We will be re-reading many times… In his own words, "It's cool."
It is difficult to watch WORRY dwarf our children, grandchildren and students' capacity for joy. The story in this important and timely book helps children stand up to WORRY. It also provides concrete tools to help adults and children work together to empower children towards quieting
that worry voice that can be so loud.