My article, "A Genius Way for Grandparents and Kids to Connect", was recently published in June's Parent Map, an online and paper magazine for families in the Pacific NW. Click on this link to read the article. It was also picked up by News Break, an online forum supporting families. During this pandemic time of families in quarantine and/or social distancing, grandparents and grandchildren are really missing each other. The article offers a unique way for the two groups to connect by interviewing one another. It has been tried by several grandparent/grandchild pairs with wonderful results. Often the conversation veers from the interview questions onto things that are very important for the child to share with the grandparent. What could be better?
The article gives very specific ideas on how to conduct an interview. After reading, you may need to put on your reporter's cap, grab your paper and pencil, and start learning more about your favorite little ones. The article was adapted from a recent blog on my website.
How does interviewing shrink the Worry Monster?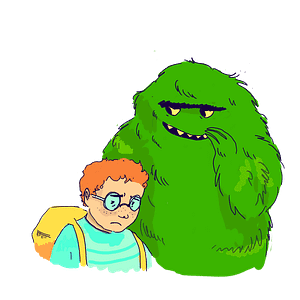 As you know, I co-authored a book titled Shrinking the Worry Monster, A KId's Guide for Saying Goodbye to Worries. So why am I writing about grandparents using the interview technique with their grandchildren? Because I want to offer as many ways as possible to reduce children's anxiety, especially during this troubling time. In the book, Worry Monster starts telling children lies or distorted facts. Once the children start to worry, the monster grows and grows by feeding off the worries. The book shows how two brave kids are able to shrink Worry Monster. The appendices offer several additional ways to shrink anxiety. One way is to provide positive connections and social support.
When you use the interview technique, you are making a very positive connection with your grandchild (and your child if you are the parent using this idea). You are showing that your grandchild is one of the most wonderful people in your life and you want to know everything you can about them. Kids love and need this. Research has shown that children who feel loved and part of a supportive family and community have lower rates of anxiety.
Other ways to shrink worries
Our book offers many additional ideas for reducing children's anxiety. One idea is to have the child write what Worry Monster says to her on one side of a paper and then write down the opposite of what Worry Monster says on the other side of the paper. Another idea is to set aside specific Worry Time with your child/grandchild. These are just a couple ideas. To find out the whole story about shrinking the Worry Monster and get a bibliography of other books that reduce children's anxiety, peek at the book!
I have included some delightful book illustrations. The first shows Worry Monster as the biggest and meanest monster in the land. The second picture shows that he became the smallest monster because two brave kids found out his secret. Wouldn't YOU like to know his secret? So would your kids and grandkids!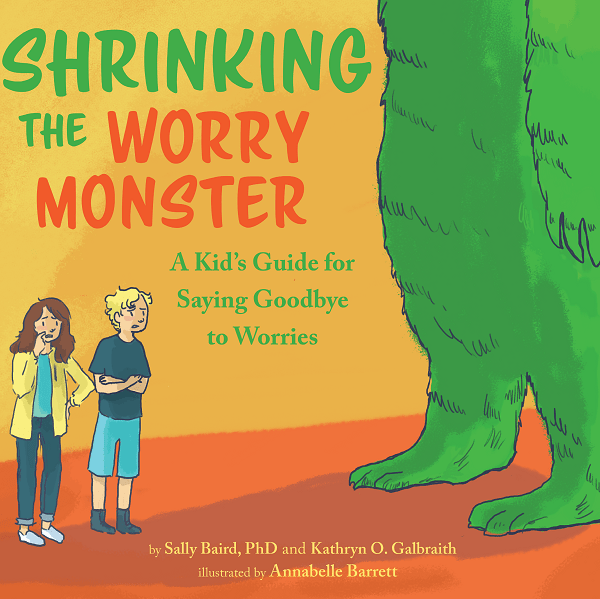 Sally Baird, PhD is a retired child psychologist and co-author of a new book titled Shrinking the Worry Monster, A Kids' Guide for Saying Goodbye to Worries. See her website at www.drsallyb.com. If your child has worries about COVID-19, you may want to read Dr. Sally's blog on helping kids who worry about the pandemic, school, illness, and so much more!