¡Ahora disponible en español!
SHRINKING THE
WORRY MONSTER
A Kid's Guide for Saying Goodbye to Worries
Written by Sally Baird PhD, and Kathryn O. Galbraith
Illustrated by Annabelle Barrett
Edited by Nancy Tupper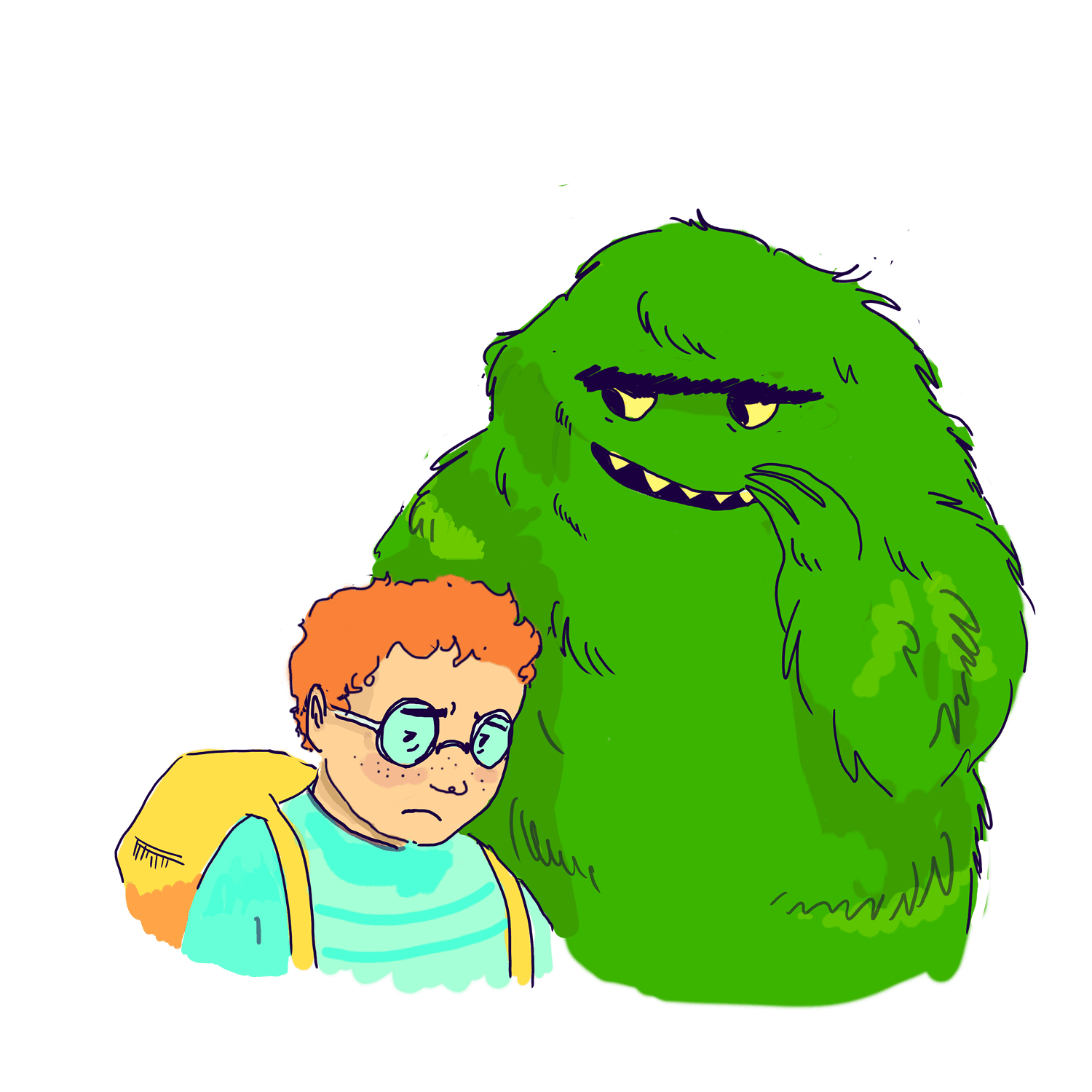 "…Child psychologist and debut author Baird and veteran children's author Galbraith preface their children's book with a detailed explanation about the benefits of CBT [Cognitive Behavioral Therapy]and how it can be applied to help children cope with anxiety. Their creation of a monster character effectively aims to help children externalize their fears and thus better confront and overcome them…A thoughtful, research-backed tale about helping kids recognize and break negative thought cycles."  —Kirkus Reviews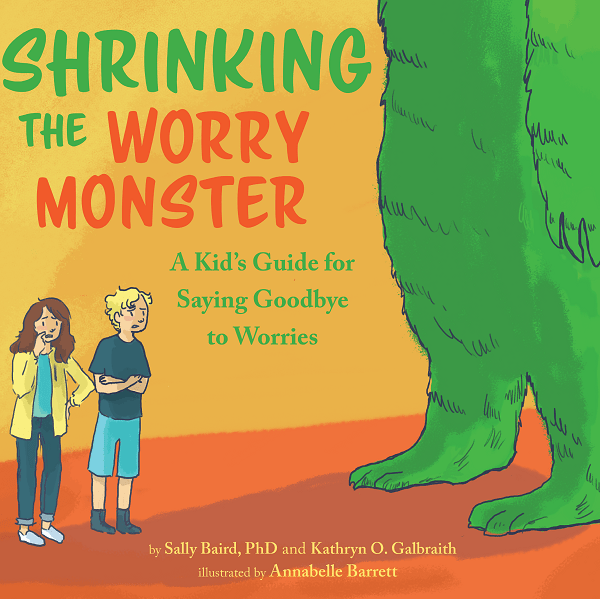 Shrinking the Worry Monster
Worry Monster has been whispering mean things to kids and making them feel terrible. Now it is up to Brooklyn and Jackson to discover the monster's secret—and stop him!
This delightful story contains research-based strategies that kids and their parents can use to overcome worry and fear. An introduction explains how faulty thinking can lead to worry, and three appendices offer the tools needed for reducing a child's worries. This is a very entertaining book, but it also contains an important lesson that really does help kids learn to "shrink" their worries. Author Sally Baird has successfully used these strategies with her clients for over 20 years.
The book is suitable for ages 4 to 12, but can be useful for ages 4 to 94!
Shrinking the Worry Monster will be available for purchase via this site at Village Books and anywhere books are sold!
Encoger el Monstruo de los Miedos
¡Los niños de habla hispana también tienen preocupaciones! Ahora el libro Shrinking the Worry Monster está disponible en español – Encoger el Monstruo de los Miedos. Este libro tiene los mismos suplementos adicionales que incluyen:
Una introducción para ayudar a los niños preocupados,
Dos apéndices que dan un ejemplo de cómo trabajar con un niño ansioso y ejemplos de cómo responderle al Worry Monster. (Monstruo de los Miedos)
Espero que usted y sus hijos disfruten de este libro.
Kirkus Review, a highly respected independent review company, just gave Shrinking the Worry Monster and Encoger El Monstruo De Los Miedos an excellent review! This company gives unbiased feedback on books, with their reviews used by most book sellers and librarians....
read more
Mommy, Why Can't I Sleep?, Southside Living, January, 2022
A Genius Way for Grandparents and Kids to Connect, Parent Map, Why grandparents and grandkids should interview each other and what to ask.
The 9 Most Helpful Children's Worry Books, tinybeans
How to Tame Your Child's Sleep Monster, tinybeans
Why Parents Need to Schedule Their Own Worry, tinybeans

Shrinking the Worry Monster, A Kid's Guide for Saying Goodbye to Worries, 

Southside Living

,

November, 2019
Upcoming and Recent Events
Dr. Sally is available for speaking events both in-person and on Zoom. She has spoken at bookstore events, parent-teacher groups, and at libraries and schools. As a child psychologist, she brings her expertise to the topics of children's anxiety, children's sleep issues, kids and Covid, and parent self-care. A look at her blogs and her recently published articles gives you an idea of her wide-ranging skills.
Dr. Sally engages both children and adults alike in her talks, providing stimulating discussion along with tips for positive children's mental health. She also provides crafts for kids which mirror her topic. A good example is how to make a Worry Box while discussing how to contain a worry.
Upcoming Events:
Baside Co-op Preschool, April 21, 2022, 6-8 p.m.
Past Events:
Silver Beach Elementary, fourth grade class, Bellingham, WA
Whatcom County Library System virtual event, Bellingham, WA
Auntie's Bookstore virtual event, Spokane, WA
King's Books in-person event, Tacoma, WA
Parkview Elementary School PTO virtual event, Bellingham WA
Birchwood Elementary School PTO virtual event, Bellingham, WA
Bellingham Public Library Children/Parent virtual event, Bellingham, WA
Bayside Preschool Coop in-person event, Bellingham, WA
Peace Health Pediatrics Department, Physicians, Nurses, Social Workers, in-person event Bellingham, WA
Village Books Book Launch, in-person event, Lynden, WA

Village Books Book Launch, in-person event,  Bellingham, WA
Dr. Sally has been a public health nurse, a school psychologist, and finally a clinical psychologist in private practice where she specialized in children's issues. Over the years, she noticed that more and more children were coming to her for anxiety. To help these children, she successfully used cognitive behavioral therapy (CBT) to teach them skills to decrease their worry. She realized that one of the main concepts in CBT could be taught in a book format and the idea for this book was born.